Gateway Motorway
What is it?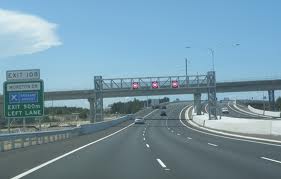 A major motorway in
Brisbane
,
Queensland
,
Australia
that is owned by
Queensland Motorways
. It bypasses Brisbane to give a quick route to the Gold Coast and the Sunshine Coast. It runs from the M2 near Browns Plains until it reaches to the
Gympie Arterial
Road. The
Gateway Bridge
is part of the Gateway Motorway that gives you access to Brisbane's top destinations:the
Port
of
Brisbane
,
Brisbane
Airport
and
Brisbane Entertainment Center
.
Where is it?
The north end is the A3 Gympie Arterial Road and the South End is the Logan Motorway passing Deagon Deviation, Port of Brisbane Motorway and the M1 Pacific Motorway.
How do I pay?
Tolling is calculated automatically when you pass under a toll point. You have several options:
go viatag - the cheapest way to pay your toll
go viavideo account - you simply travel through the toll point and the toll and video matching fee will be deducted automatically from your account. All you need to do is setup a prepaid amount of $25 in tolls.
go viavideo passes - it gives motorists the option to pay with cash for future travel.
go viaroad pass - you need to set up a go viaroad pass if you prefer to pay via your credit card; this will enable you to pass on all toll roads in Queensland.
For more information, click
here
or call 1 3000 GO VIA.
Terms and Conditions apply, and are available from Go Via.