Compare Car Hires in Melbourne Airport - Save Time & Money!



The Best Way to See the City
Flying into Melbourne needing to pick up your rental car is as easy as walking out of the plane, picking up your luggage, and strolling down to the desks with big signs saying things like Avis, Budget, Europcar, Hertz or Thrifty. Grab your shiny keys, and hop into your shiny Melbourne Airport car rental.
But the convenience of it all can begin even before you step foot on a plane. The hassle of finding a great car rental Melbourne Airport deal is made easier by VroomVroomVroom. 
We have official contracts set up with Australia's most popular car hire companies and is therefore able to collate all the deals of specials offered by Avis, Thrifty, Europcar, Budget and Hertz in one easy place. Sometimes VroomVroomVroom has specials that aren't available anywhere else on the Internet. VroomVroomVroom also guarantees the best web-based pricing from these companies! Check out Our Price Promise for further details.
So, you're in your Melbourne Airport car hire, seatbelt on, ready to point the front of the car at Melbourne … but you're not really sure where that is. Perhaps it might be an idea to check out the official website of Melbourne Airport and have a map beforehand, to see the location of the airport.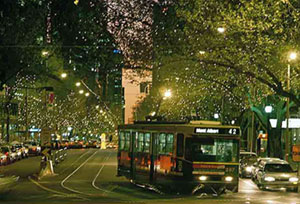 Melbourne Airport is also great for having a look at the weather conditions before choosing your flight outfit. Nothing worse than getting in all decked out in Hawaii shirts and a pair of shorts to meet bluster and dribble. Departure and arrival times can be found here too.
One thing to be aware of when driving your car towards the city, the 
Tullamarine Freeway
doesn't exactly live up to its name.
You'll be charged a fee
to take this route; you may need to obtain a
CityLink pass
, so it'd pay to get in touch with your chosen car rental company about this. But, no worries, it's not the only way to make it to the CBD, you can always travel toll-free via the
Western Ring Road
.
Have you tried booking a rental car through VroomVroomVroom?
Let us know how your whole car hire experience was! Simply send an email to help@vroomvroomvroom.com.au, fill in our
Feedback Form
or start chatting with our live chat agents today by heading down to the bottom right hand corner of this page.
Why book a car rental from Melbourne Airport? The real question is Why Not?
1. Save Time
- Making the most of your time in Melbourne is a must, whether you are visiting for pleasure or business. And booking a rental car will help you to do this. There's no need to waste time waiting for buses or taxis when you book a hire car from the depot. Checking out and then driving out will be over in a jiffy.
Photo by eGuide Travel
2. Be Flexible
- Having your own hire car at your disposal allows you to move around the city at your leisure. There is no need to base your day around timetables or cut an awesome shopping trip short because you are relying on others for transport A Melbourne Airport car hire equals pure independence.
3. Save Money
- Booking car hire with us allows you to compare the rates of each major car rental company and choose the rates you want to pay. Booking in early, as soon as you know you will need transport may also cost even less.
Maybe a car is not going to be big enough for your holiday?
We also compare campervan rental rates in Melbourne. We have many locations for car hire and campervan hire, so choose which one will suit your needs.
Melbourne Airport is also known as
Tullamarine Airport
. Some people get confused when booking car hire as there is another airport in Melbourne called
Avalon Airport
. Most flights will arrive into Tullamarine Airport, however it is best to check your flight details before booking your rental car.
We're able to help you book your rental car from either of these airports so be sure to check your flight details so you know where you will be landing and where to book your rental car pick up. Including your flight details in your booking info will help the rental car company know which terminal you will need to be collected from.
The airport first opened in 1970 to serve Melbourne city and its surrounding area. It is one of the busiest airports and a hub for many companies, such as: Qantas, Regional express Airlines, Jetstar Airways and many others. The airport offers a number of facilities to accommodate people arriving here from other sides of Australia or from different parts of the world.
Collecting a car hire from Melbourne Airport will open the door to the endless entertainment opportunities that Melbourne is known for.
The airport encourages visitors to take some time and enjoy themselves in its facilities, so that the start of their business or leisure trips can be pleasant. You can find information about the terminals by visiting the Melbourne Airport website and if you have to wait for a flight, make sure you check out all of the stores that are available.
Attractions that you can easily access before and after you pick up a car hire
JR/Watch Co.
A main Melbourne Airport shopping attraction specialized in offering its customers luxury Swiss watches and other jewelry items from famous international brands. Here, you a have a selection of the finest gifts you could take home to loved ones, without even having to leave the airport, so if you are in a hurry, this is the place to shop.
WHSmith
Another retail venue of interest on Melbourne Airport, offering all necessary elements to make your traveling easier. You can purchase mandatory items for vacations and business trips and also fuel up on foods and groceries you may need. Do not leave the airport without stopping here first, because you can buy everything for your trip from a single location.
Cafe Vue
A significant place to visit for people who travel a lot to and from the city proper. Rest your bones after travelling if you have time to spare before you collect your car rental. The venue offers breakfast, lunch and dinner menus in a lavish space, designed to accommodate a large number of customers. If you are looking for quality meals in a professional space, this is the place for you. You can book and pre-order online for large families and groups or for business lunches and meetings. The venue is available Monday to Sunday, from 5am until 12am, only on Melbourne Airport.
Queen Victoria Markets
A great place to find a bargain. Don't do any shopping in Melbourne until you have searched the stalls at the inner city market. With food to eat straight away or take away, you can really make a day of it.
When you hire a car in Melbourne, don't forget about the Toll Roads.
Melbourne, like many of the main cities in Australia have toll roads. Ensuring that you pay your tolls and have the information you need to pay for them will help you so that you don't find nasty fees or fines when your holiday comes to an end.
Each supplier has different options to consider when paying for toll roads and we have useful information for you to consider. 
                 (West Gate Freeway / 

image credit: 

T

ravelvictoria.com.au)
Melbourne Airport Car Rental
Melbourne Airport
,
Victoria
Australia