Compare Rates to Find and Drive a Reliable Truck Hire or Ute Rental
Moving house or needing a rental truck to pick up that bargain you just found on eBay? Or maybe you want to hit the garage sale in your area? Look no further! As we are sure you have a valid reason for getting a truck rental, along with finding a great deal on ute rentals. At VroomVroomVroom. we will try our best to help you find and book one online.
Book and save big on truck and ute hire through us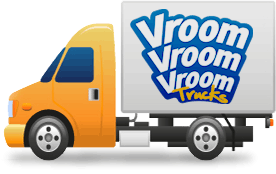 Truck and ute rental comparisons are impossible to find online. The rental companies require reservations to be made over the phone as available rentals may not be up to date on the internet. This means you are going to have to make some phone calls. Frustrating, right?

This is where VroomVroomVroom comes in. We have listed each truck and ute rental companies with their phone numbers. You can use the Get A Quote tabs below for trucks, utes, removal trucks, mini movers, buses, and other commercial vehicles.

Truck, ute or van rentals are available from Sydney, Adelaide, Perth, Melbourne, Cairns, Darwin, Brisbane, and hundreds of other locations across Australia. You can also book a truck, van or ute to move house from many locations across New Zealand.
All you need is click on any of the leading suppliers below to find out more on how to rent a truck or ute in Australia.
Make sure to contact us if you have any queries and our friendly customer care team will be pleased to assist you.

Did you know?
Back in the day, the Australian "ute" used to be a two-door vehicle that is based on the chassis of the passenger car. Today, the term is used for a truck or a pickup rather than the body style of the vehicle.
The first automotive company that manufactured an Australian ute is Ford. The reason why they created that vehicle is about pigs. That's right, a farmer's wife from Victoria wrote a letter asking for a vehicle that can carry their pigs to the market and at the same bring them to church.
Ute has become part of the Australian culture especially in the rural areas. They even hold events such as ute muster, where ute owners gather to show off their truck.
In addition, there's a racing series for utilities and it's called V8 Ute Racing Series, where you can find slightly modified utes racing like the Australian Production Car Championship (CAMS).