Compare Rates to Get a First-Rate Car Hire in Adelaide Airport
Finding a cheap Adelaide Airport car rental at VroomVroomVroom is easy. We can help you find the cheapest rates from top suppliers such as Hertz, Europcar, Budget, Avis, Thrifty and Enterprise (formerly Redspot). You can sort the list by price to find the lowest rates.
Cited as the fifth busiest airport in Australia, Adelaide Airport is the major airport of Adelaide in South Australia, flying about 8 million passengers every year. First established in 1955, the airport terminal was redeveloped in 2005, and since then has won numerous awards. It has previously been named the world's second-best international airport, as well as the best capital city airport in Australia.
Why you need to book a car rental in Adelaide Airport?
You can easily book a reliable car rental in Adelaide Airport (ADL) and begin your holiday straight away.
​ Great rates - We compare car rental deals from major brands and our Price Promise​ assures you of getting the best rates.
Wide selection of vehicles - VroomVroomVroom offers you more choice when you book a vehicle with us. There are several campsites and holiday parks in the city that are perfect for outdoor fun. Check out our Adelaide campervan hire page for more details.​
Convenience: Renting a car at Adelaide Airport is easy because car hire companies have counters at each airline terminal, and at the international terminal. Rental cars come with a full tank of petrol which is perfect so you can roam around and see wonderful places in Adelaide.
Trusted for years - We have been assisting people find the perfect rental car since 2001. Contact us​ today if you have any queries and our friendly customer care team will be delighted to assist you.
Driving tips in Adelaide Airport
Situated close to West Beach, the airport is about 6 km (3.7 mi) west of Adelaide's central business district. You will find the city easy to reach in your rental car. Car rental desks can be found on the ground level at the front of the terminal and there are external offices in the car park. You can easily find the six leading rental car companies in South Australia, such as Hertz, Europcar, Budget, Avis, Hertz, Thrifty and Enterprise (formerly Redspot).
Australia is the perfect destination for a road trip. But before anything else, you may want to check the weather forecast so you will know when is the best time to enjoy the outdoors. For first time drivers in Australia, check out our driving tips​.

Are you travelling with your little one?
Some airlines give discounted rates or even a free ride to babies and children with their own seat. However, some parents aren't comfortable bringing one so they prefer renting when they arrive at the airport.
VroomVroomVroom recommends "Adelaide Baby Hire" since they offer short term and long term hire on car seats as well as other baby equipment such as single and double prams, baby capsules, cots/bassinets, cradles, and toys.
They offer superior quality, clean and safe child and baby equipment. It is important for them that all products comply with Australian Standards and are presented to the customers clean, sanitised and in excellent working order.
They hire well known baby brands such as Britax, Baby Jogger, Bugaboo, Peg Perego, Maxi Cosi, Chicco, Baby Love, Valco, Mountain Buggy, Quinny and more. "Adelaide Baby Hire" are fully accredited child restraint professionals and they also deliver and install to any car rental company (fees apply). They are open 7 days a week but make sure to set an appointment for pick up and delivery at the Adelaide Airport.
For more important details on child car seats, check out VroomVroomVroom's guide.
Hop in your car rental and start exploring the city of Adelaide
When visiting Australia, you cannot possibly miss out on seeing Adelaide, because it is one of the most impressive cities on the continent. Located on the shore of Gulf Saint Vincent, the city houses more than 1.28 million residents, making it the 5th largest city in Australia. Discover many interesting things about the city, like the fact that its name was given in honor of Queen Adelaide, the German-born queen of England.
Today, Adelaide is one of the most popular tourist destinations in Australia. Also known as the "festival city", it is renowned as the host city for numerous entertaining events. There are many things to see and to do in this stunning city. When you are not spending your time relaxing on the stunning beaches - less than 30 minutes away by car hire - spend your time visiting the world-class attractions that you can find all around Adelaide!
Attractions | Accommodation | Restaurants & Bars
---
Attractions
Adelaide Botanic Garden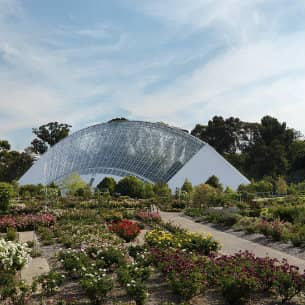 Are you captivated in launching a collection of Australian plants? Adelaide Botanic Garden and the near Botanic Park are an oasis of magnificently landscaped gardens, majestic avenues and wonderful architecture.
Tourists and travellers can take time out to take a look at the beauty and variety of plants from across Australia and around the world. You devote an hour or spend the day among the 50 hectares of beautifully maintained gardens. Sit back and relax in the shade or savour a coffee among some of Australia's excellent plant collections.
The National Wine Center of Australia
Address: Hackney Rd & Botanic Rd, Adelaide SA 5000
The center allows visitors to witness the wine production process from beginning to end. Rent a car and experience the "Wine Discovery Journey". Visitors will also be given the chance to get a taste of the extensive and breathtaking wine collection available.
Adelaide Zoo
Address: Frome Rd, Adelaide SA 5000
A major tourist attraction that every member of your family will enjoy. It is the only place where you will get a chance to witness the lifestyle of giant pandas and learn all about this endangered species.
The South Australian Museum
Address: North Terrace, Adelaide SA 5000
Home to an impressive collection of history and culture. Come here to find the largest collection of Aboriginal cultural objects, comprising more than 3,000 artifacts.
The Adelaide Oval
Address: War Memorial Dr, North Adelaide SA 5006
One of the most picturesque test cricket ground in the world. For young people who are eager to have fun, rent a car in Adelaide, because this city also offers a great variety of jazz festivals, exhibits of famous artists, sporting events, and nightlife possibilities.
---
Accommodation
Apartments on George

VroomVroomVroom
Adelaide Airport
,
South Australia
,
Australia