Car Rental Adelaide - Really Enjoy It

Have An Amazing Adelaide Holidays!
South Australia's capital city,
Adelaide
, has a lot to offer to tourists and road trippers – from excellent shopping and delightful delicacies to thrilling outdoor activities and wonderful tours. There will never be any dull moment for the thrill seekers and families who are looking for a great time. 
Adelaide
can be easily reached by
rental car or campervan hire
! If you're coming from
Melbourne
,
Sydney
, or
Brisbane
, it will only take you at least a whole day of driving to reach Australia's fifth largest city. No wonder the city has become a favourite holiday destination of many road trippers and campers.
Adelaide, crowned the capital of South Australia is the fifth-biggest city in Australia. It's fondly known as "The City of Churches". Scour its streets and you'll soon find out why. Adelaide's like a suburbia of churches!


Though the churches still stand, Adelaide has caught on with the rest of the world and gained a liberal attitude. Nowadays, Adelaide is commended for its many festivals and sporting events, its food and wine, it culture, long beaches and its wide defence and manufacturing sectors. It even ranks highly as a livable city, earning a spot in the Top 10 in The Economist's World's Most Livable Cities index.
We at
VroomVroomVroom
not only aim to give you the
cheapest rates in car and campervan hire
, but we also want to make your holiday more memorable. To achieve our goal, we have listed down some of the
fun things you can do
and
places where you can stay
in Adelaide.
 Things to Do |
 Places to Stay |
 Places to Eat
THINGS TO DO
---
Barossa Food and Wine Attractions
Address: 66-68 Murray St Tanunda SA
Barossa can be easily accessed from the Adelaide airport. It is just an hour drive away by hire car or campervan rental. The valley is famous for its food and wine attractions since it is home to a total of 13,256 hectares of vineyard and numerous wineries. Every Saturday morning, the locals head to the
Barossa Farmer's Market
to shop for fresh ingredients. The market features more than 50 stalls that sells meats, fresh fruits and vegetables, cheese, bread, and other local produce. One of the most beautiful winery estates in Australia can be found in Barossa. The
Chateau Tanuda
houses grand buildings, croquet lawns, manicured gardens, and a heritage-listed Cellar Door. There are other must-see attractions in Barossa such as the Barossa Regional Gallery, Barossa Historical Museum, Barossa Bowland and Mini Golf, Barossa Valley Golf Club, and Nuriootpa Skate Park to name a few.
  Address:
Based in Seppeltsfield, Barossa Valley SA
Have you ever wondered how it's like being on top of the world? Join the Barossa Valley Ballooning to experience riding a hot air balloon over the picturesque Barossa Valley. The flight usually lasts for an hour and this is the best way to get an aerial view of the beautiful valley, tranquil ocean, and the spectacular Barossa Ranges. Feel the early morning breeze and witness sunrise over the valley – this is truly one memorable experience. The meeting place is at Novotel Barossa Valley Resort and this is also where you can enjoy a buffet breakfast after the hot air balloon ride. The award-winning resort houses Harry's Restaurant which offers scrumptious local specialties.
Address:
Marina Pier, Holdfast Shores Marina, Glenelg SA
Temptation Sailing offers all dolphin lovers a tempting adventure! Get a chance to encounter one of the most fascinating sea creatures on planet Earth. Temptation is the first South Australian vessel to receive a dolphin swim license and allowed to study these adorable mammals. They have been conducting dolphin swims since 2002 so you are assured of having a successful dolphin encounter. Temptation Sailing assures dolphin sightings in each cruise, but they can't guarantee the duration of the dolphin's stay. What's great about Temptation Sailing is that you don't have to look for the dolphins because they usually come to the ship being a naturally curious creatures. Their vessel can be found at Marina Pier, which is just 15 minutes away by car hire or campervan rental from Adelaide Central Business District.
Ice Arena
Address:
23 James Congdon Drive, Thebarton, SA
Are you looking for an awesome place to celebrate your birthday? Do you still don't know where to take your kids? The perfect solution for that is the Ice Arena, which is the premier ice skating facility in South Australia. It is just a few minutes away from the Central Business District of Adelaide. There used to be a ski slope within the arena, but it has been transformed into an events venue. Those who want to learn how to skate can also take lessons at the Adelaide Sports Academy. The Ice Arena makes skating more fun with their themed events, including the Frosty Fridays where you can skate and dance to the music of the resident DJ.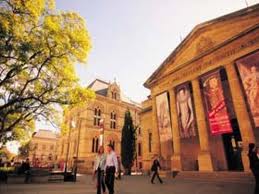 Art Gallery of South Australia
Address:
North Terrace, Adelaide SA 5000
To kick things off, you better come on over to the Art Gallery of South Australia. Get to view one of Australia's best art collections under the roof of Adelaide's loveliest historic buildings. Found between the South Australian Museum and the University of Adelaide, the gallery has been a critical cultural focus ever since it was put up in 1881. Here you'll find vast collections of Australian, Asian and European art.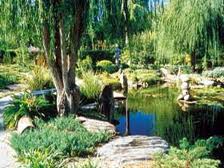 Himeji Garden

Address:
South Terrace, Adelaide SA 5000
Your next stop would be Adelaide's Himeji Garden in South Terrace where you'll find Japanese religious artifacts that successfully recall the majesty of nature. The Garden fuses together two classic styles. First, the 'senzui' (lake and mountain garden), where water and the imagination combine to give one a magical sense of vastness and grandeur. And secondly, the contrast comes with 'kare senzui' (dry garden), that's composed of rocks and sand that still resemble the presence of water, even of the sea itself.
The garden is open all week, from 8am to 5.30pm so feel free to come in during those times to get a taste of the serenity that is Himeji Garden.


Victoria Square Fountain


Address:
Victoria Square, Adelaide SA 5000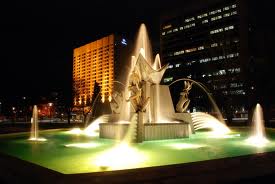 Your final stop would be Victoria Square Fountain. You can find this in the northern half of Victoria Square between Flinders-Franklin Streets and Wakefield-Grote Streets. This fountain was set up to honour the visit of H
er Majesty Queen Elizabeth II
and the
Duke
of
Edinburgh
in 1963. Come and see this sculptural wonder of unpolished Angaston marble. Look on with wonder at the brilliance of John Dowie, master sculptor of the fountain.
PLACES TO EAT
---
Address:
270 Rundle Street, Adelaide, SA 5000
Fumo Blu, which means "Blue Smoke" is a premier party place in Adelaide. The underground establishment is known for its 50's-inspired cocktail lounge featuring funky colors and groovy decors. It also has an elegant cigar lounge that are perfect for the elite men. One the most striking attractions within the cocktail bar is the Aquarium, which measures 1 x 2 metres and houses an array of colorful corals and tropical fish. Fumo Blu is open from Mondays to Sundays, but the opening and closing times vary for weekdays and weekends.


Address: 154 Greenhill Road, Parkside, SA 5063
Find out how the delectable Haigh's Chocolates are made by visiting their visitor centre located near the city centre of Adelaide. You can either take the bus or take a 5-minute drive in your car hire to reach the factory of Haigh's Chocolates. Witness how the cocoa beans are transformed into chocolates and even get a chance to sample freshly made chocolates and confectionaries matched with complimentary tea or coffee. The free guided tours usually lasts for 20 minutes, but make sure to book a schedule in advance.
Address:
7 James Place, Adelaide, SA 5000
Are you ready to shop 'til you drop? Rundle Mall is the ultimate shopping destination in Adelaide. It is also the perfect place to meet up with friends and family because there are many great things you can do there apart from shopping. More than 23 million people visit Rundle Mall annually or approximately 400,000 customers per week. It houses four department stores: David Jones, Harris Scarfe, Kmart, and Myer. Rundle Mall also has 700 retailers, 15 arcades, several food courts, restaurants, pubs, and bars. The Palace Nova Cinemas, which has ten screens, is just a short walk away from the mall. 


PLACES TO STAY
---
Address:
14 Sturt Street, Adelaide, SA
Formerly known as Quest, RNR Serviced Apartments, is one of the most sought after CBD apartments in Adelaide. Their relaxing atmosphere, comfortable surroundings, and spacious rooms give that home away from home experience. All the apartments are newly refurbished and are equipped with kitchen and laundry facilities. The townhouse also has separate bedrooms, bathroom and a study area. Each apartment has a private balcony and a beautiful courtyard. The 1-bedroom and 2-bedroom apartments can be found along Sturt Street while the 3-bedroom apartments can be found at 257 Wakefield Street, but you need to check in first at the main reception in Sturt.
 
Address:
33 N Esplanade, Glenelg North SA
Are you looking for an accommodation with a beachfront setting? The ideal place to stay is at Baybeachfront Apartments where you can enjoy the cool sea breeze and the sound of the waves. Dolphin sightings and stunning sunsets are a regular occurrence at the Baybeachfront Apartments. This is one of the most in demand apartment locations offered by the Glenelg Accommodation Specialists. It received a certificate of excellence from Tripadvisor this year. Whether you're planning to stay for a short break or a long holiday, there's always a perfect place for you and your companions. Choose from their 23 apartments that feature 1, 2, and 3 bedrooms. Other facilities include a heated swimming pool, children's playground, BBQ area, and table tennis.


Address:
25 Main Street, Hahndorf, SA
If you're in search of a more high-end accommodation, the perfect place to stay is at The Manna of Hahndorf. The 4-star AAA Tourism rated motel is conveniently located right in the heart of Hahndorf and just 20 minutes away from the Adelaide CBD and 35 minutes away from the airport by car or campervan hire. The Manna of Hahndorf offers more than 50 rooms that are equipped with modern facilities including free Wi-Fi and paid TV. There are many unique shops, cafes, and restaurants near the motel as well as food and wine experiences. Guests can make use of the swimming pool and BBQ facilities at their nearby sister motel. 
Here are other great things to do in Adelaide and reasons why you need a rental car
Adelaide is small in comparison to the eastern cities, but it is still a remarkable city 
to visit. 
-Hop a tram to Glenelg from the city and take a break near the seaside. A tradition which has endured for many years (and you don't have to find a car park for the hire car). Visit Glenelg pier or have an ice cream on the beach.


-With flat streets making it easy to walk the CBD area, you can park the hire car and enjoy Adelaide while taking a brisk walk through the city. Or if walking isn't your thing, then make use of your rental and explore the city on wheels.

-Make a day of it at the Adelaide Botanical Gardens. With a feeling of the old times, the well maintained gardens can be enjoyed by the whole family and it is free to enjoy the beautiful surroundings.
-Get in your rental car and take the 10km drive north to the Morialta Conservation Park. With waterfalls and native bush, this is the perfect place to pack a picnic and bush bash. 
-If you happen to be driving around in the rental car, travelling with the kids and they are itching for something to do with their hands, why not try 
Beerenberg Farm
. Australian owned and operated, they offer a day out with the family that cant be beat.
Historical Information about Adelaide

The city of Churches - Adelaide is the capital of South Australia. This city is renowned for its churches, gardens, historical sites and for the wine districts that have been bringing thirsty travellers through the city for the last 50 years. To enjoy Adelaide and all that you can do there, hire a car. That way you can enjoy the fun destinations and explore the city in comfort.
If you decide that you would prefer to drive and sleep in a Campervan, we may also be able to assist. You can compare Adelaide Campervan hire by
CLICKING HERE
.
Pick up your vroomvroomvroom.com.au vehicle and begin your Adelaide adventure with not only convenience on your side, but also comfort and style.
Flying into Adelaide Airport? Compare car rental price on our Adelaide Airport page to ensure you find the best deals possible. 
Adelaide Car Rental
Adelaide
,
South Australia
Australia