Compare Car Hire Bundaberg Deals - Get the Lowest Price

Enjoy big savings when you book a car rental with VroomVroomVroom!
Discovering Bundaberg's beautiful tourist spots is a breeze if you choose to rent a car with VroomVroomVroom. Here are some great reasons why:
$0 booking fees -

 There's no catch. We genuinely want you to feel stress-free when booking your car rental by not requiring you to make any upfront payments.
Compare and save  -

We've teamed up with leading car hire brands such as Avis, Budget, Europcar, Hertz, Thrifty and Redspot; and compare them all to find the best value for your money. Book early to save more time and money.
Pay upon arrival -

No need to stress yourself by paying beforehand using your credit card. You can pay when you arrive to pick up your car hire Bundaberg.
No Cancellation Fees -

 Travel itineraries do change often, so if you decide to change your plans, you will not lose any money. You can cancel and modify your choice for free. 
LIVE chat feature -

With our highly competent and friendly customer support experts, assistance is just a type or call away. Contact us and we will give you all the information that you need.



Ready to make your booking? Please use our search box on top of this page. All you have to do is enter the basic travel information to get a list of rental cars - it's that easy!

Begin your Queensland journey in Bundaberg with a car rental!
Bundaberg is a city located in the Bundaberg Region in Queensland, Australia. The city is situated on the Burnett River which is about 385 kilometers north of Brisbane, and about 15 kilometers inland from the coast. Bundaberg is also a major centre in Queensland's Wide Bay-Burnett Region. It's where the city meets the country and it currently has over 43.000 residents. Rent a car in Bundaberg City which was founded in 1867, although the location was given the official status of a town only in 1902, becoming a city in 1913.
The city's name was said to be an artificial combination of "bunda" (a Kabi aboriginal word which means "important man") and "berg" (a German term which means "mountain"). The city is locally known as "Bundy".

Tourism is one of the most important industries in Bundaberg, being an amazing location to plan a trip with a rental car, due to the beaches, the spectacular parks and the numerous famous tourist attractions.
The famous Bundaberg Brewed Drinks is a family owned business located here. Get the family together and head to the factory to see the world famous Ginger Beer being made. The famous drinks have helped put Bundaberg on the map.


Top Attractions within Bundaberg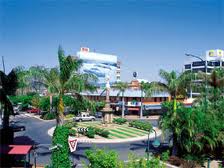 The Whaling Wall
is one of Bundaberg's most famous features. It is a huge, multi-storey, mural, painted on the side of the city's only real high-rise building (located on Bourbong Street).
It was painted in 1990 by Robert Wyland, an international marine artist. It was his 23rd mural project but it was his first project in the southern hemisphere. And for the record, the painting of the mural consumed about 1000 liters of paint!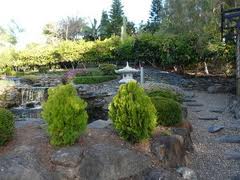 The Bundaberg Botanical Gardens
are located in the northern area of Bundaberg (on
Mt. Perry Road
).
In the Gardens, you'll see radiant water lilies along the lagoon and wooden walkways. This beautiful place attracts more than 100 species of birds and provides a serene spot for a relaxing afternoon or a peaceful lunch. During Sundays, rides on the steam-powered Australian Sugar Cane Railway are available for children.
The Botanical Gardens is also a home to some comprehensive museums. And the prize rose in this garden is Hinkler House owned by Bert Hinkler. His English home was brick by brick transported from Southampton, England, back to Bundaberg in 1983. Presently, his house —now an aviation museum— stands proudly while overlooking the lagoons of the Garden.
The Bundaberg Botanical Garden is one of the most popular locations within the city. Here you can discover numerous exotic plants that are featured here. The Bundaberg Botanical Garden also hosts the Bundaberg & District Historical Museum, where visitors with an interest in history can be fascinated by the stories of the most famous pioneers of the country.
Alexandra Park is one of the most popular Bundaberg locations for children due to its free zoo. In fact, Bundaberg city has numerous parks, which extend on more than 500 hectares that include things like playgrounds and a stunning waterfront. Visiting the Alexandra Park which was first opened to the public in 1910 will definately be worth your time.
Moore Park is located in the north of Bundaberg. Moore Park is formed on about 20 km of sandy beach. The numerous beaches in this city, offer many options for all tourists with rental cars to relax and enjoy outdoor activities.
Visit Hinkler Hall of Aviation which is a historical aviation museum which exhibits numerous flight simulators and aircraft models. The Hinkler Hall of Aviation opened to public in December 2008 and is a memorable experience.
Baldwin Swamp Environmental Park is a location in which tourists with rental cars will be able to see amazing species of birds and wildlife. In fact, here tourists can visit some unique species, including the eucalypt forest.
Bundaberg Car Rental
Bundaberg
,
Queensland
Australia