Compare Rates to Find a First-Rate Car Hire in Coober Pedy
Located in north of South Australia, Coober Pedy is a town 846 km car drive north of Adelaide, with a population of about 1,916 people. It got its name from the local Aboriginal term kupa-piti which means 'whitemans hole'. Also called "the opal capital of the world" because of its huge opal deposits, Coober Pedy has a rich Aboriginal history and you can experience the old traditions here. History enthusiasts will surely enjoy their stay here. Graveyards, mines and underground churches are some of the main interesting things you will see.

The town is a fascinating place that will surely amaze you. You will see interesting things and places, but do not forget to take photos and to admire this place as much as you can. You will always remember a place like this!
Why rent a car in Coober Pedy at VroomVroomVroom?
With many things to find out about the history of this place, it is a great choice to reserve for a reliable rental car for your holiday destination! Quality services and great accommodation are other advantages that attract tourists here!
We have prepared a list of efficient car hire vehicles supplied by the leading car hire companies like Avis, Hertz, Thrifty, Budget and Europcar.
If you are having problems in booking your car rental in Coober Pedy, contact us and we will be delighted to assist you. Our friendly customer care experts are ready to help you book a hire car and satisfy all your enquiries.
Top Attractions Within Coober Pedy
---
The Catacomb Church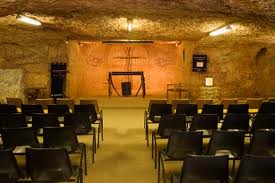 So for your first stop, you better head on over to the Catacomb Church. This quirky church was originally built in 1977, cut out of the sandstone into a shape of a cross. Coober Pedy is quite known for its underground lifestyle so having a church under the ground isn't entirely out of the realm of possibility. This is a definite must-see.
Old Timer's Mine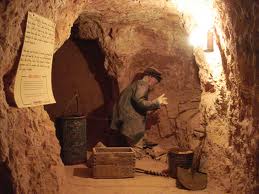 If you want to be taken back to 1916, to the days of the original opal mine, the Old Timer's Mine is the perfect place to go. Back then, some veteran miners back-filled the shafts to hide the mine below. Nobody knew why they did this and those miners never came back to extract the opal. In 1968, the hidden mine was once again unearthed, albeit, accidentally, when an underground home extension tore through and revealed the abundant supply of opals. This sparkling brilliance is still there for you to feast your eyes upon.
Josephine's Gallery and Kangaroo Orphanage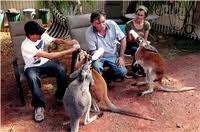 For your final destination, head on over to Hutchinson Street, Coober Pedy. There you'll come across Josephine's Gallery and Kangaroo Orphanage, Coober Pedy's only one-stop tourist complex.
Spend some time wandering through and experience South Australia's biggest regional Aboriginal Art Gallery. See breathtaking pieces made by both international and local artists. These works range from investment pieces of 'fine art' to authentic hand-painted bookmarks—whatever you might fancy.
And the highlight of your trip to Josephine's Gallery has got to be the Kangaroo Orphanage! This is a once-in-a-lifetime chance for you to see the unique Aussie icon, the Big Red Kangaroo in action. You'll also learn how this majestic animal survives and makes the most out of the extreme conditions of the Australian Outback.
You can see the baby kangaroos too if you like. They're available twice a day, 12.30 and 5pm. You wouldn't want to miss playing with these 'joeys'. Don't try to box with them, though. Just because they're babies, doesn't mean that they can't give a jab like Mike Tyson.
Alice Springs is approximately 600 km car drive from Coober Pedy, known for its culture, history and beautiful landscapes. In Alice Springs you will find Uluru-Kata Tjuta National Park, a UNESCO World Heritage. Tourism infrastructure allows tourists to admire this wonderful place, so you will see native animals and plants.
The Tattersall's Finke Desert Race is a two-days race through the dessert. It is an important event and it would be very interesting to see something like that, especially if it is for the first time. The event takes place each year on the Queen's Birthday long weekend, which means the second weekend in June.
Waterhole Airport is an airport in Coober Pedy which has flights that will take you to Adelaide, so you can visit other surrounding places, which is incredible as you will enlarge your tourist attractions area.
So there! I hope you have a blast while you're at Coober Pedy. It'll surely be an intense vacation with all those activities that are just bound to be fun!
VroomVroomVroom
Australia
,
South Australia
,
Australia