Enjoy the Labour Day Long Weekend in Queensland
Labour Day is celebrated all over Australia, but the dates vary per state. In Queensland, they celebrate this holiday on the first Monday of May this year. Since the day celebrates hardworking Aussies, most people spend the time enjoying a relaxing long weekend with their family and friends.
If you don't want to travel too far from your backyard on Labour Day, here are some fantastic activities within easy reach of some of Queensland's largest cities. Here are some of our top ideas for the Labour Day long weekend.
Tamborine Mountain Glow Worm Caves
Opening Hours: 10am to 4pm daily
Have you ever seen a glow worm before? If you haven't, then this is your chance to see real glow worms and you can find them in Tamborine Mountain Caves. There are two chambers inside the caves: one is for the presentation of the glow worms where visitors may watch audio-visual displays. The other chamber, which is called the "magical glow worm cave", is where you will find thousands of glow worms.
While you're visiting the area, you'll find plenty of hiking trails where you can explore fantastic scenery. The Gold Coast is surrounded by some of the state's best national parks, including Springbrook and Lamington.
Close to the Glow Worm Caves, visitors can also enjoy the Tamborine Rainforest Skywalk, where they learn more about the forest from a unique vantage point. There are also plenty of waterfalls and scenic lookouts in the area.
Driving Tips: You can rent a car in Gold Coast then drive via State Route 90 to get to Cedar Creek Estate. Another option is via State Route 95.
HIDE ME
Mini Golf at Golf Central, Brisbane Airport
Opening Hours: 7am to 10pm (Sunday-Thursday), 7am to 11pm (Friday & Saturday)
This is the perfect activity for the whole family! Golf Central's mini golf championship course was designed for players of all ages so even toddlers will enjoy swinging their golf club here.
The holes vary in terrain and difficulty. Players will get a scorecard passport which they will use as they play through 18 holes. Enjoy the game, the music, the drinks and the people at Golf Central.
Of course, mini golf is just the start in Brisbane. With a rental car you can enjoy all the city has to offer. Visit the city centre for some shopping, or take a stroll along Southbank and sample some of the delicious cuisine.
Driving Tips: Book a car hire in Brisbane and drive via Airport Link. Other alternative routes include M3 and Clem7 heading to the Airport Link. Keep in mind some routes toward the airport are toll roads, and you will be responsible for the cost. The official address is 40 The Circuit, Skygate Brisbane Airport.
HIDE ME
HIDE ME
Rockhampton Zoo
Opening Hours: 8am to 4:30pm daily
Nature and animal lovers will surely have a wonderful time at the Rockhampton Zoo, which is situated between the Murray Lagoon and the Botanic Gardens. The zoo is open all-year round and there are several areas to visit: The Queensland Reptile Area, The Australian Walkabout Zone, and Monkey Mania. There are also exciting activities at the zoo such as feeding times and chimpanzee talk.
The zoo offers free admission for all visitors. Not only will you see unique species from Australia and around the world, you can also walk through the city's beautiful Botanic Gardens.
From the main entry on Ann Street, you will find plenty of interesting trails to explore, and a collection of international plants. Visit the Japanese Garden or see fauna that traditionally grows in an arid climate.
Driving Tips: If you booked a car hire in Rockhampton City, the fastest route is via Denham Street. You can also drive via Bruce Hwy/A1 and Spencer Street or Denman Street and Davis Street.
HIDE ME
HIDE ME
Cairns Esplanade Lagoon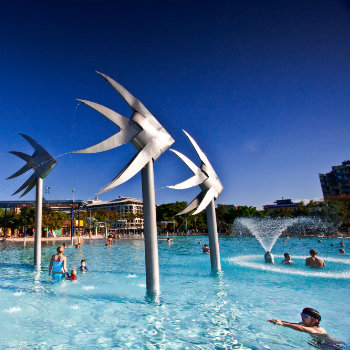 Opening Hours: 6am to 9pm (Thursday to Tuesday), midday to 9pm (Wednesday)
If you are in the mood to go for a swim, then head to the Cairns Esplanade Lagoon. Instead of swimming in chlorine-treated water, enjoy swimming in salt water. They use a state-of-the-art filtration system to make sure that the water is clean. The Lagoon is open all-year round including public holidays. After having a dip at the lagoon, you can visit the other free attractions at the Cairns Esplanade such as the playgrounds, parkland, and other recreational facilities.
With the generally hot temperatures, there is no better way to cool off while you're in Cairns. Best of all, the Esplanade Lagoon is nearby some of the city's best cafe's and restaurants, so you'll have plenty to choose from if you get hungry. There is also some top brand name shopping nearby.
If you're looking to explore more of Cairns, head north and visit some of the city's fantastic Northern Beaches such as Palm Cove and Clifton Beach.
Driving Tips: If you are hiring a car in Cairns, drive via Abbott Street. But if you are hiring a car in Cairns Airport, the best route is Airport Avenue and Lake Street.
HIDE ME
HIDE ME
Bundy Bowl & Leisure Complex
Opening Hours: 8:45am to 9pm (Mon-Thurs), 8:45am to 10pm (Fri-Sat), 10am to 9pm (Sundays and Public holidays)

There will surely be no dull moment once you've entered Bundy Bowl & Leisure Complex because of the many choices in games. Their Ten Pin Bowling features automatic digital scoring, high quality lanes surfacing, and lounge style seats.
There are a total of 16 lanes and there is also video entertainment to add life to the game. Apart from bowling, you can also enjoy their other affordable games, including the Wild West Shootout Shootin' Gallery, Laser Tag, and Jurassic Putt Putt Mini Golf.
You'll find the Leisure Centre at 17 Lester Street. If you're just looking to enjoy Tenpin Bowling, you can get away with a game for just $10. The whole family will be able to spend hours enjoying the facilities at the complex.
Driving Tips: If you'll be picking up your car hire near Bundaberg Central, the fastest route is via Maryborough Street. Alternative option Barolin Street.
HIDE ME
HIDE ME
---
Read more