The Best Easter Holiday Destinations in Australia
The much-awaited Easter week is just around the corner! This is the time for Easter bunnies, Easter eggs, hot cross buns, and having fun. The four-day holiday weekend also gives you the opportunity to catch up with old friends, bond with the family, and visit new places. However, choosing a destination can be quite difficult because there are many wonderful holiday spots across the country. To make your search easier, we at VroomVroomVroom have come up with a list of the best Easter destinations in Australia. Whether you are travelling solo, with your partner, with your mates, or with the whole family, there is a perfect place to celebrate the Easter holiday!
Where to go on a long Easter weekend
Sydney
Thousands of people flock to Sydney Olympic Park every Easter weekend to join the Sydney Royal Easter Show. There are so many things to do and see in this event – from animal experiences and spectacular shows to fun rides and assorted goodies for the kids.
Tips: This is the largest annual event in Australia so make sure to purchase a ticket and book a car rental in advance to avoid all the fuss. It is also advisable to pre-book your parking ticket online since parking at the Sydney Olympic Park are high in demand during the annual event.
Directions: If you will be arriving via Sydney Airport, you can also rent a car from there and head to the venue. The airport is approximately 40 minutes away via M5 and A3. But you can also take the Great Western Highway or the M5 and A6 route.
Bendigo
The vibrant city is known for its goldmines; and anyone who goes here will feel like they have struck gold because of its world-class attractions including the Central Deborah Gold Mine, Golden Dragon Museum, and the Bendigo Art Gallery. It also hosts the annual Bendigo Easter Festival, which attracts thousands of tourists over the Easter weekend. The 4-day festival features live music, spectacular parade, family entertainment, children's activities, Easter egg hunt, and Chinese festivities.
Tips: Start booking a car hire so you can easily visit the attractions and attend the events in Bendigo. There are two multi-story car parks near the festival that are free. The one in Hargreaves Street is just opposite the Bendigo Library while the one in Edward Street is at the corner of Edward and Queen streets.
Directions: Selected roads will be closed during the festival, but there will be various detours around the CBD so just follow the signs. If you are coming from Melbourne, you can take the M79 route to reach Bendigo which takes approximately and hour and 51 minutes.
Byron Bay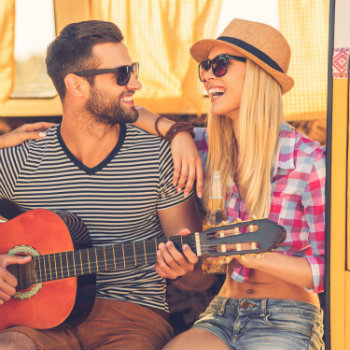 Do you sometimes get the blues? The best way to get rid of that is by heading to Byron Bay. Aside from its beautiful beaches, the town also hosts Australia's premier music festival, Bluesfest, every Easter weekend. Enjoy live performances from some of the world's best musicians including Lionel Richie, Robert Plant, Lauryn Hill, Seal, Sheryl Crowe, Melissa Etheridge, John Butler Trio, Tash Sultana and Leon Bridges.
Tips: Hurry and hire a campervan in Byron Bay because most of the campsites are already sold out, but there are other alternative camping grounds nearby including the Beaches of Byron.
Directions: Bluefest is situated at Tyagarah Tea Tree Farm which is approximately 10 minutes away from north of Byron and 10 minutes away from south of Brunswick Heads. If you are coming from Ballina Byron Gateway Airport, it will be under 30 minutes drive from the airport to town. But if you will be arriving via Brisbane Airport, the travel time will take approximately an hour and 50 minutes to reach the venue. You have an option to rent a car at the airport.
Canberra

Australia's capital city offers attractions that are suited for all ages and different lifestyles – from the family favourite National Zoo and Questacon to the distinguished Australian War Memorial, Parliament House, and National Gallery Australia. This upcoming long weekend, make sure to book a car hire in Canberra so you can easily attend the National Folk Festival, which is one of the longest running festivals in the country. The 5-day event is held at the Exhibition Park and features performances from the world's top musicians, sampling of delicacies, dance workshops, and more.
Tips: There are free parking spaces at the Old Well Station Road entrance, but take note that the carpark is not enclosed or patrolled.
Directions: If you are coming from Canberra Airport, you can also rent a car at the airport and go on a 15-minute drive to EPIC via M23 or Majura Road. If you are coming from Sydney, you can drive your rental car via Federal Highway and take the right-hand turn into Well Station Road then follow the signs going to the festival venue. Travel time takes around 2 hours and 50 minutes.


Easter in other countries

Best Easter Road Trip Destinations in New Zealand
Road Trip Itineraries for Easter in the USA