Driving to the Best Beaches on the Gold Coast
It's always a good time to enjoy the beautiful, sandy beaches of the Gold Coast. The spectacular coastline stretches almost 60 kilometres, and attracts surfing enthusiasts from around the world. Pick up your rental car from one of the many locations to choose from across the Gold Coast, and start searching for your favourite beach. It'll be easy to see why the Gold Coast is visited by around 12 million tourists each year.
Broadbeach
Home to a pristine stretch of coastline, Broadbeach is also close to the popular Surfers Paradise, theme parks and a number of golf courses. The village has a vibrant atmosphere, and hosts award-winning restaurants, coffee houses, piano lounges, casinos, bars and nightclubs. Broadbeach also plays host to dazzling gala stage shows, aerial acrobatics, and talented street musicians. There is also a number of free festivals held annually.
When you've finished surfing, or just spending some time relaxing on the sand, head into town and try some of the delicious food that has made Broadbeach a dining mecca. Discover gourmet delis, bistros and brasseries.
Surfers Paradise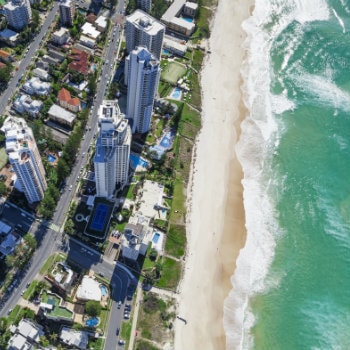 With its breathtaking skyline and world-famous beach, Surfers Paradise is a magnet for visitors. A trip to the Gold Coast would not be complete without visiting this iconic stretch of sand. It's not just the beach that draws people in. A big part of the appeal is the diverse restaurants, cafes, and nightlife.
Located just 30-minutes away from the airport, it is easy to make your way to Surfers Paradise. Drive you rental car straight to Surfers Paradise for a beach volleyball game or a few hours of surfing lessons.
The beach has over 120 market stalls and 14 shopping centres and arcades. Plenty of dining options are also available in Surfers Paradise for your convenience.
Nobby Beach
Another 7-min drive from Broadbeach is the Nobby Beach, which is excellent value for money and comfortable for travellers. Whether you are having a holiday with your family or spending time with a group of friends, this area is perfect to enjoy a stroll on the esplanade or watch people surfing.
Since the Nobby Beach is located at the heart of Gold Coast, it is a convenient starting point when visiting exhilarating theme parks, restaurants and shops, and the treasured hinterland region.
Nobby is also classified as an uncrowded beach so this is an ideal place for relaxation. Nobby Beach has numerous picnic and BBQ areas. Experience a stunning sunrise on the beach or enjoy a breathtaking view of the coast with a stroll at the top of the cliff anytime of the day.
Burleigh Heads
From Nobby Beach, Burleigh Heads Beach is a six kilometre drive. Popular as a surfing destination, it is widely known for its surf break. Burleigh Heads is a great place to enjoy picnics and barbecues in the scenic parks overlooking the ocean. Enjoy activities such as swimming and surfing at the beach. You may even be lucky enough to get to watch the Quicksilver Pro professional surf contest live at Burleigh Heads.
Another thing to look forward to in your visit to this area is the Norfolk Island Pines which would make an awesome backdrop for any snapshot taken. It includes some of the earliest trees planted at the coast, home to native Australian birds.
Duranbah Beach
Technically, Duranbah is not within the Gold Coast's official borders, but it is one of the best places to surf in the area. During the surfing season, the visitors swell up and tourist families who want to take a dip are advised to stay away. The beach is nothing close to ordinary but for an experienced surfer. Duranbah or "D-Bah" is heaven. It's all about the waves!
The area has plenty of space for those with short boards and the bodyboarders. If you haven't tried surfing or you want to learn, there's no other place to start than in Duranbah. We're sure that in no time, you will feel confident about your ability to surf.
If you're having this roadtrip with the family and would still want to find some amazing things to do, VroomVroomVroom recommends Point Danger. It overlooks Duranbah and further along you will be treated to an amazing view while walking in the daily sunshine.