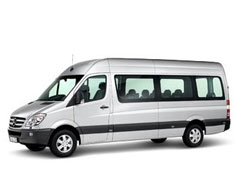 Minibus and Van Hire
Are you looking for a mini bus or van rental in Australia?
Comparing commercial vehicles on our website it not available at this time. Suppliers like to discuss rentals within their commercial fleet directly with you the customer. So we did the next best thing and have provided the links and contact numbers to help you out.

Below is a complete list of where to find discounted minibus and van hire from over 200 locations throughout Australia. Our suppliers offer 8, 12, 20 and 25 seater mini buses.

Simply click on 'Get a Quote' to check availability for the type of commercial vehicle, or people mover you are looking for.
Please note that no additional license will be required for anything up to (and including) a 12 seater bus. However, 20 and 25 seater minibuses will require an additional license.