Road Rules to Follow for Visitors Driving in Australia
Is it your first time to travel to Australia? Before booking a car hire at VroomVroomVroom, it is important to understand the rules and regulations. Driving in Australia is an adventure - with large distances between major cites and plenty to see and do along the way. The main thing to remember is that Australians drive on the left hand side of the road. Speed limits and distances are expressed in kilometres rather than miles. Drink driving is also not allowed in the country. Here are a few other driving tips for the Land Down Under.
Distance between cities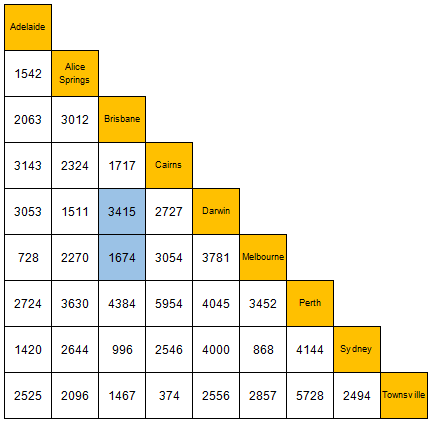 Here is a table representing the distances between some of Australia's most popular destinations. Distances can be quite large between cities, particularly if you are travelling to another state. Roads in major centres and regional areas are in generally good condition. However, it is advisable to check the rural road conditions with local authorities before you begin your journey.
Seat belt rules
It is compulsory to wear a seat belt in any vehicle in which they are fitted. This include buses that are fitted with seat belt restraints. Only one person can use a seat belt so sharing it with someone else even if it was your child is both unsafe and illegal. Children aged seven and above can wear adult seat belts or use booster seats. For kids below seven, there are specific ways on how you can restrain them. Check out our guide on child car seats.
Read here to find more information on seat belt rules and regulations.

Speed limits
Speed limits vary throughout Australia and are measured in kilometres per hour (km/h). The speed limit usually range between 10 kilometres per hour on shared zones and 110 kilometres per hour. In the Northern Territory, the speed limit of their four highways is 130 kilometres per hour.
All residential zones are 50 km/h unless signed otherwise. It is good practice to maintain a speed of 50 km/h if you are uncertain of the speed limit. The speed limit in the suburbs and across towns is 60 km/h or higher. You can see the speed limit signs clearly on these roads.
School Zones are signed, and operate between 7am - 9am and 2:30pm - 4pm during School terms. Speed limit during these times is 40 km/h. Built-up areas include main roads, industrial and commerce districts. All major roads are clearly signed. Freeways and/or Motorways are clearly signed. Some seasonal limits may apply.
Click here for more information on speed limits.
Speeding fines
Speeding is a major problem on Australian roads, with a large majority of crashes being speed related. Speed limits are heavily enforced in Australia. Particularly around peak holiday and travel periods such as Christmas. It is not uncommon for fines during these periods to be doubled.
Police are equipped with a number of methods for speed detection. These range from:
Fixed Position Speed Cameras
Mobile Speed Camera Vans
Hand Held Laser and Radar Guns
What happens if I get a speeding fine in my rental car?
The car hire company will take one of the following actions:
Charge your credit card for the amount detailed on the fine. (may also be subject to local surcharges and taxes)
Supply your information to law enforcement agencies, who will in turn issue a fine to your postal address.
The registered operator needs to pay the fine within 28 days upon receiving the notice. In any case, it is advisable that you pay any fines you receive before leaving the country. Failure to do so may result in refusal of a hire car, refusal of entry or cancellation of a visa on a return visit.
Current speeding penalties
| Over the speed limit | Fee | Demerit Points |
| --- | --- | --- |
| Less than 13 km/h | $168 | 1 |
| At least 13 km/h but not more than 20 km/h | $252 | 3 |
| More than 20 km/h but not more than 30 km/h | $420 | 4 |
| More than 30 km/h but not more than 40 km/h | $588 | 6 |
| More than 40 km/h | $1.177 | 8 + 6 month suspension |
Drink driving
Drink driving or driving under the influence of a band substance is a serious offence in Australia. Police has the authority to stop a driver at any time and conduct a breath test. The legal limit in most places is 0.05 of blood alcohol concentration (BAC). In New South Wales, however, the limit for a person driving a car hire is 0.02. This only applies to drivers who hold a full licence. If you hold a learner or probationary licence, you must have a zero BAC while the person accompanying the learner driver must not exceed the 0.05 BAC limit.
If you are found to be over the legal limit, you will be arrested and required to take a full blood test at a hospital or health institution. If you want to know the drink driving penalties in each state, check out the map created by Alcosense.
Learn more about the rules on drinking alcohol and driving here.
Mobile phones
It is illegal in all Australian states and territories to use a mobile phone while driving. If you have a mobile phone and drive a car, you can only use the two at the same time to make or receive a call, or use the MP3 function on the phone, if the phone is in a mobile phone holder. If it is not mounted then you are not permitted to touch or use a mobile phone.
Keep in mind that any and all other functions like Facebook, email, text and chat are also prohibited. If you need to check your messages, you need to stop and park your vehicle in a place where you will not endanger yourself and other drivers. Drivers on their Learner's Permit or P1 plates are not exempt. They are strictly forbidden to use a mobile phone at all times.
For additional information on the use of mobile phones, road rules laws, fine amounts and demerit points, read here.
Illegal parking
It is considered illegal to park in places with parking restrictions such as "no parking" zones and clearways as they could cause traffic or danger to other drivers and residents. It is recommended to park in designated parking spaces or better yet look for a car park where you can safely leave your car. We have listed down the car park providers in major airports in Australia to help you find the best parking deal. Click here​ to choose your airport location.
It is also important to obey all parking signs to avoid getting fined for illegal parking. To better understand what parking signs mean, read here​.

Important:
Before you drive...
Make sure you know and comply with the road rules at all times. Stay alert and be informed about the road risks. We also strongly recommend you do some research to educate yourself before you leave for a long road trip in your rental car. This is the most important part: if you feel lost and confused, don't be shy to ask at the car hire desk.
Planning to hire a car? Read our comprehensive guide to the car rental process in Australia to gather more information. You can also find out more about how the rental car return process works. Safe travels!